Born From The Elements
World History - Origin of Unity
World History – The Origin and Basic History of Unity
In the beginning, the world was chaos, with each race fiercely tribal. Races rarely associated with each other. Then emerged four champions, the elf Aledgeire, the human Teasgera, the dwarf Uhranas, and the Orc Grokin. Championing gods that had up until this point never been heard of, they were the first gods that true proof could be displayed that they were real and truly powerful. These champions united their races and begain to attempt to unite the lands under each if their perspective gods. Due to previous racial tensions, inevitably race began to become tied up in the fight, as many of the commanders drove entire races out of, unknown to the champions or the gods they worshipped, their attention drawn elsewhere. Before long each of the four champions had united a fourth of the land each.
Fearing a more prolonged and far more costly war, each champion agreed that a peaceful unification was the right thing to do. Fearing a failed attempt, they decided to test their idea. By each giving up a portion of their land, a new nation was formed where all races could exist together each deciding what god they would worship, with a new government never conceived before. The idea was to be a utopia, and so the experiment was named unity, and it's city of power named Utopia.
So unity existed for a hundred years, a testament to it's idea. Though not perfect, it seemed to have succeeded as a whole.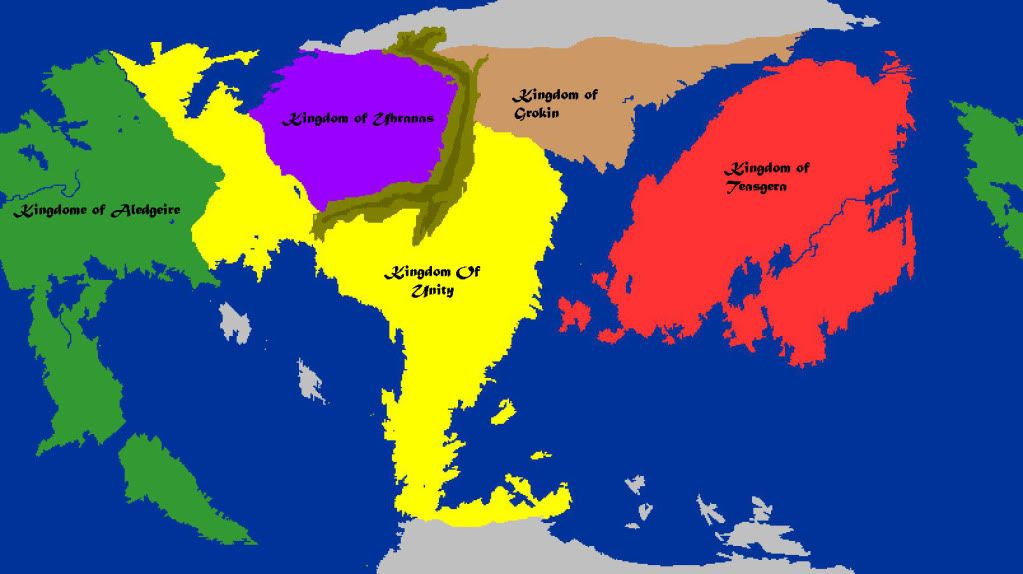 But the emperor of Teasgera, descendant of the original hero, suddenly attacked unity claiming that he was reclaiming the land declaring it to have been a foolish idea that had failed. The Orkish and Dwarves, fearing loosing their own land, attacked unity as well, beseeched at all sides, they faced certain recapture. However thanks to the continued support from the elves unity managed to delay their overtaking. However, their true salvation came when the human lands began to attack the orks. Stalled at their advance on unity and fearing a two front war, the ceased attacking unity and turned their full attention to fending off the human invasion. After another stalemate with elven support to unity and Seeing a chance to attack one of their oldest racial rivals, they also ceased attacking unity and began to make occasional pushes both below and under the mountains into orkish lands. And so after 23 years of fighting, each war slowly but surely came to a stalemate, each advancing army coming to a natural barrier they could not push through. An uneasy truce was declared, as racial and nationalism tensions grew. The orks and the dwarves occasionally skirmished, but other than that the fighting came to a standstill.